I can string your racquet (or racket, if you prefer the alternative spelling) to the exact tension that you require, using a variety of globally recognised stringing patterns. I also keep stock of a wide range of strings, grips and grommets to suit all styles of play.
Tools
All of my stringing is carried out on the Yonex ES 5 - Pro and Yonex ProTech 8 racquet stringing machines, two of the best stringing machines on the market.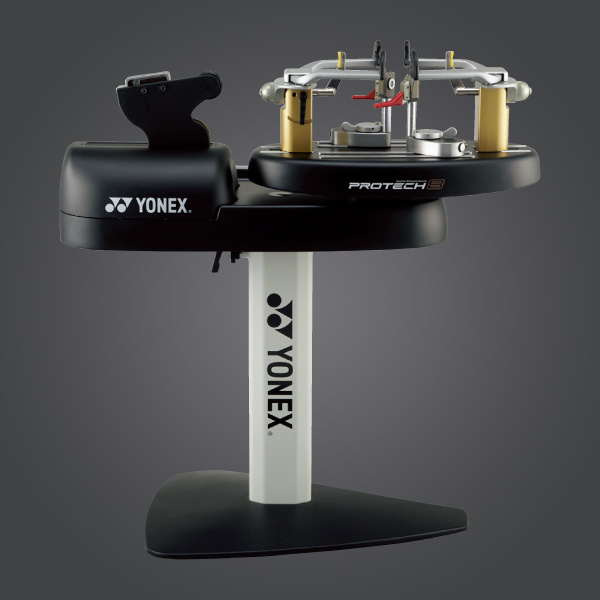 Service
Your racquet is usually ready to collect within 24 hours, although when my schedule permits, I can provide a while you wait service.
Please contact me beforehand to arrange a suitable time to drop off your racquet. All racquet stringing is by appointment only.
Prices
For information about how much I charge for my services, check out my price lists. Please note, the prices listed are intended as a guideline only.
When should I Restring?
Knowing when your racquet needs a restring can help you to stay at the peak of your game.
How often you restring your racquet will depend on the type of racquet you use, your style of play, the type of strings you use and your frequency of play.
These are some of the signs to look out for and some general rules of thumb to help you decide if it is time to visit your racquet stringer.
Racquets should be restrung as many times a year as you play each week. ie: If you play 3 times a week, you need to restring 3 times a year.
Racquets should be restrung after 40 - 50 hours of play.
Nylon strings will lose their tension quicker than others, usually after 30 - 40 hours of play.
When you strike the racquet face against the palm of your hand you should hear a ping. If you hear a dull thud instead, then it is time for a restring.
If you find the sweetspot has disappeared, you need a restring.
If you are a hard hitter, you will usually need to have your racquet restrung more often than the average player.
At the very minimum, your racquet should be restrung every 6 months regardless of how often you play. This is because the strings will naturally lose their tension and elasticity over time.